The description of the investment climate
in Stupino region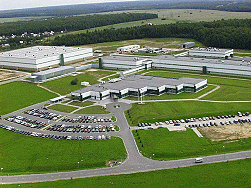 Introduction To The Investment Climate In Stupino District
Resulting from a combination of the industrial expansion of domestic producers and investment attracted in 1990s Stupino district exhibits favorable living conditions comparable with European standards. It ranks first in Moscow oblast in industrial production, trade and banking services and social infrastructure.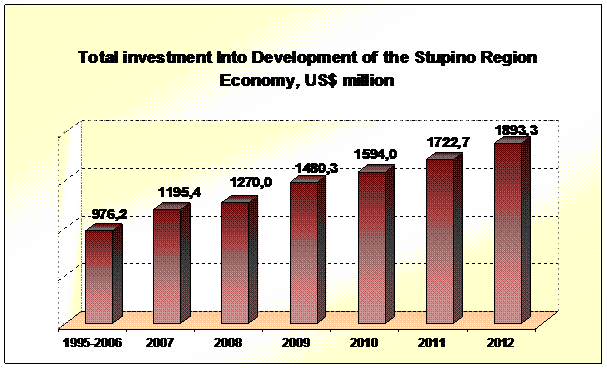 The district achieved sustainable rate of economic growth thanks to sustained efforts of the labor force, efficient corporate management and favorable investment conditions. Stupino district has a geographical location attractive for new business ventures coupled with good transportation infrastructure, qualified labor force and administrative support. The district is located in the center of the most industrialized and developed region of the country, accounting for about 40 million consumers, which is about 27.7 percent of total country' population. The unique location has already drawn high-level and world-class investors that allow maintaining the leadership status among the most dynamic and developing areas in Moscow oblast and Russia as well. The region has good climatic and living conditions, free of crime, pleasant European-like habitat for residents, including a close-knit foreign community – all that makes it attractive for permanent residence of qualified labor force from other Russian regions and abroad. The district is centered in the most economically developed, densely populated and affluent area of Russia. It is close to Russian capital (1-hour drive), which makes it possible to address various issues at federal and oblast levels. The district has a developed transportation system with Domodedovo international airport within 40-minute drive.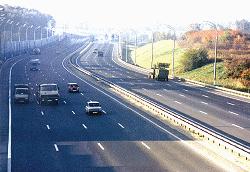 Over-industrialization of Moscow and, on the contrary, commendable ecology of the Stupino district, provide a strategic advantage for new enterprises in the region. Moreover, the construction of Moscow-Don highway (М-4) brought Stupino closer to the capital and simplified its links with southern Russian oblasts among most developed.
The presence of customs terminal and potential for cargo clearance remove some border-crossing obstacles.
Moscow oblast is well known for its economic potential, which is second in Russia after Moscow. Residing in Stupino is considered convenient and even prestigious, as it is a center for investment, the largest industrial producer and most dynamic area of the oblast and a hub of domestic aviation and defense technologies. The enterprises of space and aviation industries in the district possess high scientific and economic potential in metallurgy, metal processing and machine building. Equipment and inputs produced by Stupino businesses can be utilized for new ventures and opportunities. Mars Company that placed design and production orders with Stupino plants considers its factory the most technologically advanced in the Mars world-wide network. Campina shares similar experiences. All these contribute to the expeditious emergence of modern high-technology enterprises and successful marketing opportunities. The implementation of the industrial plans and programs is ensured by the existing cooperation with foreign investors, favorable investment climate, administrative support and convenient location. The district has qualified labor force of workers and skilled professional and engineers. The presence of 4 colleges, 3 technical schools and intra-company training's and historical traditions of employment with machine building and metallurgy enterprises – all these creates good professional factors for long-term scientific and technical development. The district has extensive advantages in providing management systems. There are some 2,000 skilled young professionals and some of them worked at Mars, Campina, Knauf, Kimberly Clark factories. The district accumulated significant experience of working with foreign investors. The presence of the required infrastructure and business skills allow quick implementation of such projects. Mars factory was built for 12 months, yogurt plant of Campina – for 9 months owing to the support provided by local, oblast and federal authorities. Foreign enterprises operate in the region for 20 years and receive full support from local authorities in tax incentives. Investors may purchase and own land. Upon a successful decision by a foreign investor to build an enterprise in Stupino working groups are set up that comprise from local authorities and provide follow up and support of the investment. Besides, competent consulting companies capable of providing guidance for the investment project implementation exist here.
Sound environment and presence of high-income jobs attract additional labor resources.
The district created a labor force databank and a registry of land plots suitable for industrial development with existing facilities and transportation infrastructure.
Based on the experience, these factors make it possible to assert that all necessary pre-conditions are created for successful launch of investment projects for the total volume of US$200 mln. The district is perfectly suitable for the establishment of concentrated location of enterprises built with significant foreign investment, equipped with infrastructure and poised for growth.
Geographical location
Stupino district is located 100 km to the south of Moscow with the area of 1696 km2 (1060 miles2). It is positioned in the east part of Smolensk-Moscow Hills and is a part of Moskvoretzko-Oksk physical-geographical province of the subsection of mixed conifers and deciduous forest with characteristic undulating relief and flat divides. The north-south span of the region is 52 km (32.5 miles), and east-west – 50 km (31.25 miles). The total population is 119,400.
The district borders on Tula oblast (on the south) and the following districts of Moscow oblast: Domodedovo, Ramensky (on the north); Voskresenk, Kolomna, Ozersky (on the east); Chekhov, Serpukhov (on the west), Kashira (on the south).
Highway transport
The best Russian federal highway in Don (Moscow-Voronezh-Rostov-on-Don-Kransnodar and whence to Novorossiysk) goes through the district. The highway is a continuation of the Crete international transport route №9 that connects Scandinavian countries with the Middle East. Don highway connects central European regions of Russia with the Middle Volga, North Caucasus and black Seashore and meets the highest technical standards. It was commissioned in end of 2001 and provides the shortest route to the most populous and industrially advanced South-East of Russia, Ukraine and the Caucasus. Given the population of Moscow and Moscow oblast it covers markets for 40 mln people.
Along the regions borders passes Ryazan – on the east, and Simferopol highway – on the west.
East-to-west via Metscherino-Malino-Semenovskoye a highway ring connects Ryazan and Simferopol highways.
Regular bus routes go to Ozery, Kashira, Serpukhov and towns of Mikhnevo, Malino, which allows to bring additional labor force residing on the south of Moscow oblast.
Bus network 1224 km (761,39 miles) long has 40 routes, including 8 intra-city, 29 inter-city and 3 country-wide. There are 117 buses. In 2004 the construction of bus station was finished in Stupino.
There are 17 24-hour taxi service providers. The total number of personal cars equals 49,000.
A number of the region's enterprises provide transportation services: CJSC Stupinoavtotrans, GUP ATP-1, CJSC ATP-3, GUP Stupino PATP, East Specter Logistic Ltd. OJSC Promzheldortrans provides railway transportation services. Transport enterprises boast large stock of trucks, buses, specialized equipment for various repairs, parking places and are able to conclude service agreements.
Railway transport
The following railways can be found in the district:
- North-south – Moscow-Tambov with Mikhnevo, Zhilevo, Stupino stations and Privalovo, Shugarovo, Sitenka, Akry, Belopesotskaya platforms. The railways are powered along all directions. The carrying capacity in both directions is up to 300 trains daily.- West-east – Belt-Moscow circular railway with Malino, Yaganovo, Shmatovo, Sotnikovo, Lyutik, Myakinino, Shubatovo, Lesnye Dary stations.
The passenger traffic to/from Moscow is provided by electrichkas (electric trains) from Stupino, Zhilevo, Mikhnevo; to Voskresensk –from Zhilevo, Mikhnevo, Malino. The daily carrying capacity is 270,000 passengers.
OJSC Electrosvyaz provides the communications services in the region. Its Stupino branch is one of the most modern and technologically advanced. Digital exchanges and fiber-optic lines ensure high quality of all communications. Stupino branch includes 8 city and 20 country automatic switch stations. The region is ahead of Moscow oblast in phone number per capita: the ratio went up to 37.5 per 100 people in city areas (Moscow oblast–28.7). In county areas it increased to 16.5 (Moscow oblast– 14.6). Intra and inter-city automatic dialing services within Russia and abroad are available, including fax and email.
Mobile communications are also developing with 3 mobile operators in the region: MTS, Beeline, Megafon.
There is an Internet dial-up connection in Stupino region provided by 3 operators. The speed depends on the area and a phone number in use. The price also depends upon the time of connection and a provider and ranges from US$0.016 to о 0.032 per minute.
The regional mailing center provides all kinds of mail services, including «express mail» around Russia and CIS.
Along the southern part of Stupino district passes the Oka River, one of the largest in the European Russia. The river is passable for cargo and passenger traffic.
Other marine connection of Moscow oblast connected with the Oka–Moscow River is a canal named after Moscow. The length of marine connections in operation within Moscow oblast is 585 km (366 miles).
The system of sluices and hydro systems on the Oka and Moscow Rivers provide an interface of Moskvoretzsk sluice system into Volzhsk system. Depths up to 40 m allow operating all types of present river vessels.
There are 5 ports in the Moscow marine transport system, including in Moscow: Northern, Southern, Western; in the region - Serpukhov (60 km (37.5 miles) to the west of Stupino), Kolomna (63 km (39.4 miles) away).
Within 62 km (38.75 miles) from Stupino is the largest, newly built and most modernly equipped cargo/passenger Domodedovo airport. Transaero Company, the largest in Russia after Aeroflot, relocated from Sheremetyevo to Domodedovo after taking into accounts its advantages. Moreover, there is an air-field in Stupino that provides cargo transportation services.
The development of industrial production
The industrial capacities of the region are concentrated primarily in Stupino and the largest county towns of Mikhnevo, Malino, Sitne-Tschelkanovo, Zhilevo.
The leading sector of the region's economy is industrial production. It is represented by 30 large and medium enterprises in metallurgy and machine building focused in aviation, production of glass fiber plastics, cardboard, plastics, construction materials, food and processing, and construction. Daily volume of the industrial production is estimated at US$ 9.1 million.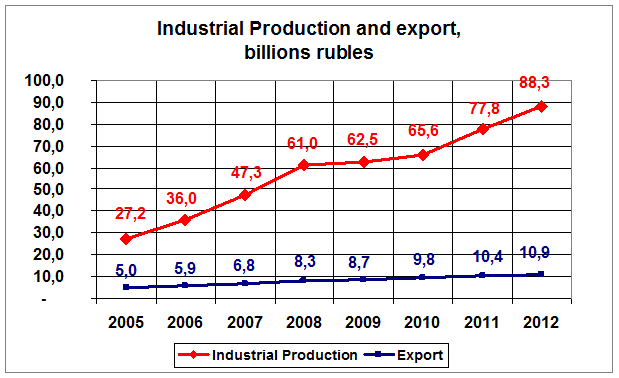 .
A unique system of science-intensive enterprises, such as aviation materials and inputs exists in Stupino. A new production of car wheel pairs for export is being developed.
The district's enterprises, primarily machine building and metallurgy, possess significant designing capacities, serial production, and fully equipped toolroms. This potential can be used for further increase in production volumes.
The most important enterprises in the district include the following:
OJSC «SMK», the largest producer of aluminum rolling in Russia. Among its main products are:

sheets, rolls, pipes, profiles, bars, stamping;
foundry, rolling, pipe pressing, forging;
stamped blanks from carbonaceous and alloyed steel;
blanks from heatproof alloys for aviation engine disks;
bars and ingot of vacuum smelting from special alloys based nickel, titan, cobalt;
production of car wheel pairs, various spare parts and radiators;
production of inputs for utilities and и catering, construction enterprises: aluminum radiators, pipes and utensils, towel dryers.
| | |
| --- | --- |
| | OJSC "SMPP" - the largest producer in Russia of helicopter plugs. The production and capital repair of aviation rotors and helicopter inputs, civilian use products. Furthermore, it produces adapters, car disks, and grinded flanges. |
LLC «Stupino Titan Company» The production of ingots from pure and alloyed titan. First enterprise that introduced vacuum-arc smelting in USSR in 1950s. TUV CERT certified.
.

OJSC NPP "Aerosila" The leading enterprise in Russia in the production of:

aviation rotors;
serial production and repair of aviation rotors, regulators of auxiliary gas turbine engines;
creation of the most powerful rotor ventilators for air transport;
design of auxiliary gas turbine engines of next generation for regional and trans-country planes;
production of composite inputs is possible for sports industry, Para planes, and isolation elements for heating pipe systems (polyurethane foam).

.
LLC Stupino Glass fiber plastics plant, focused on:

glass production;
production of glass fiber mats, chopped threads;
press materials and roll glass fiber plastics;
unilateral laminates;
pressed inputs from glass fiber plastics.
LLC Zhilevo Plastics Plant, covers 50 percent of Russian demand in polyester resins and aminiplastics, specifically:
polyester resins used for glass fiber plastics and polymer concrete inputs;
various profiles, haberdashery, printing, airtight electronic inputs, steeps for electric engine windings, fillings, and as binding cold and hot calcification for armed plastics;
glues, lacquers and steep composites and press-composites;
steep of peroxide of cyclogeksan, accelerant of cobalt napthtenate, aminiplastics, carbomideformaldegide resins, silicon organic products.
LLC Mikhevo Mechanical and Repair Plant
Production of road, construction, excavation, specialized and utilities equipment;
capital repairs of tractors, engines and separate units.
equipment of oil and gas producers, construction, processing industries, power energy and utilities with spare parts for tractors, road construction, hydro-equipment.
LLC Mikhnevo Electric Works
The production of thermal cable couplings, epoxy cable couplings, wirings, consumer plastic goods.
LLC Mars
| | |
| --- | --- |
| The production of 200,000 tons of confectionery products and pet foods. | |
The production of 200,000 tons of confectionery products and pet foods.
LLC Campina

Russian enterprise founded by Dutch Campina Melkuni. The factory annual capacity is up to 90,000 tons of yogurts and production of Stupino's sterilized milk.
Marazzi Gruppo Ceramiche S.p.A
Italian company - the producer of Ceramic tiles.
Isomin LLC
The production of heat-insulated products from basalt cotton and construction panels.
Gruppo Concorde S.p.A
The production of ceramic granite «ITALON».
LLC «Isratek» - flexible packaging in Alevo.
Mapei S.p.A.
The production of the glutinous structures for ceramic tiles in Stupino
LLC Plast-Project
The production of plastic windows.
LLC Knauf Insulation
The production of the glass-fiber insulation materials in Stupino.
LLC «La Fortezza Est»
Italian company - the producer of the metal shelving and constructions for hyper- and supermarket.
LLC «FM Logistic» - logistical warehouse
LLC «Kimberly-Clark» (USA) - of hygienic products.
Investment climate
Favorable investment climate created in Stupino district provides various forms of support for investors during investment cycle. Special working groups are set up that provide real assistance to investors in project preparation and implementation. The Council for Investment and Business Support is active in the district and necessary laws and regulations are continuosly adopted to accommodate existing investments and encourage new investment inflow. Most recent legislations adopted are:
Regulations On The Investment Guarantees In Stupino Region;
Regulations On Investment Project Review Procedures to be implemented in Stupino region.
| | |
| --- | --- |
| Mars Ltd (USA) – two confectionery and pet food plants were built, capital investment volume over US$520 mln. The production capacities are constantly being renovated. | |
| | |
| --- | --- |
| | «Campina Ltd» (Netherlands) – commissioned a yogurt factory. Сapital investment volume over US$100 mln. This factory allows to make annual production volume to 90,000 tons. |
ETL technical logistics company is set up.
BP built a gas station for a 500 car fill-up a day in Stupino.
n 2005 - 2006 five companies have finished their project in Stupino region: a plant for heat-insulated products from basalt cotton and construction panels of «Isomin Ltd» (Russia) in Stupino; Ceramic tiles factory of Italian «Marazzi Gruppo Ceramiche S.p.A» in Malino, «Scovo» (Russia) produces the aluminum utensils with anti-burning covering, «Gruppo Concorde S.p.A» began producing of ceramic granite «ITALON», flexible packaging in Alevo («Isratek»)
| | |
| --- | --- |
| | |
| Isomin Ltd (Russia) | LLC «Kimberly-Clark» |
| | |
| «SCOVO» LLC (Russia) | «Gruppo Concorde» S.p.A (Italy) |
In 2007 three companies finished their project and started manufacturing: «Mapei S.p.A» (Italia) began producing the glutinous structures for ceramic tiles in Stupino, OJSC «Plast-Project» (Poland) – production of plastic windows, German company «Knauf Insulation LLC» is producing the glass-fiber insulation materials in Stupino.
In 2008 OJSC «La Fortezza Est» (Italy) began to produce the metal shelving and constructions for hyper- and supermarkets and was finished the 1-st phase of logistical warehouse «FM Logistic» (France).
In 2009 «Сaparol-Malino» (Germany) has finished the project and began producing of dry mixes under brand «Caparol» in Malino.
«Kimberly-Clark», a leading global health and hygiene company, has finished in 2010 its first manufacturing facility in Russia to support its growing consumer business here and in Eastern Europe. The multi-million dollar facility is producing personal care and feminine hygiene products under the well-known Huggies and Kotex brands.
In 2011 «Silgan Metal Packaging» LLC (Austria) started production of metal cans in Stupino.
Three more companies continue their projects: LLC «Zambaiti» (Italy) - production of wall-paper, LLC «Evrokosmed-Stupino» - oral care products under brand R.O.C.S., LLC «GPR» - industrial-warehouse complex of ceramic granite.
Priority directions of Stupino region
(scientific, science-technical and innovative activities)
Production of materials and billets of the aviation assignment;
New metallical materials for airspace equipment and the new manufacturing technologies;
Materials, constructions and technologies of biologically compatible implants and prosthetic appliances;
Information integration and system support of an article life cycle (CALS-technologies);
Informative – telecommunicative technologies;
Public health and life security;
Formation of a healthy way of life;
Logistics and transport technologies;
New educational technologies;
New power-energy conserving and productive technologies for housing-municipal services;
Safety technologies;
Ecology and rational use of nature;
New materials and technologies;
Production and refining of agricultural raw materials;
Scientific supply of the development of the agricultural complex;
Personnel preparation in the science-technical and innovative activities.
Personnel potential
In the district there exists a unique combination of the personnel potential of a highest qualification and the presence of perspective work places at the upcoming enterprises. The presence of a system of the «in-company» training at lots of enterprises, a vocational training school, a technical school, several high schools help to find easily, or to train or to educate in the shortest possible time specialists practically in all spheres that the modern production will require.
The level of education of Stupino population is one of the highest in the whole Moscow area. The percent of people with high and not-completed high education is more than 30%. 893 of 1000 people in Stupino have high, secondary professional or full secondary education.
In Stupino district there is created a wide net of educational foundings, among them – 4 high educational institutions (high schools), 3 secondary professional establishments, and the elementary professional one.
In 2012 there were 503 school graduates, 31,7% of the latter got excellent and good marks. After having graduated from a secondary school 79% of graduates pass their exams to high schools (in the region there are only 61%), 15% - enter technical training colleges, 6% - enrol in specialized courses.
Therefore, more than 95% of school graduates continue their studies; there are 2800 of students who study at high schools and secondary professional establishments in Stupino.
The schools of Stupino cooperate with most prestigious engineering Moscow high schools, introducing the program of the «continuous education». As a rule the high school graduates try to find work in Stupino district.
The unified program of personnel development and training is acting in the region with all institutes, secondary professional establishments and enterprises performing «in-company» training participating in it. The actions and measures of the program aim at the coordinated activity of the employers, managerial authorities in the personnel training and the educational establishments.
Yearly about 150 of specialists with a diploma of high technical school finish high schools of Stupino, amongst them the branch of Moscow State Aviation – Technological university of Tziolkovskiy. Those graduates are engineers, mechanical engineers, metallurgists, engineers for automatization of technological processes, mechanics of loading machines. On the base of JSCo «Stupino metallurgical plant» there is being implemented the training and raising of the skills of its employees and the specialists from other enterprises by the following directions: safety of works, quality control, labour protection, equipment servicing, etc. Besides that the top management can take refresher courses at the establishments of Moscow and regions. Up to 100 of people raise their skills by the specialities: construction, metrology, economics, metallurgy, labour protection, medical servicing, etc.
When there is a need, any of Stupino high and secondary professional schools can implement training of groups by the required speciality and qualification and a contractual basis.
There is a lot of technically competent young men who have the experience of a contractual work at such leading European companies, as LLC «Mars», LLC «Campina», LLC «Frito Lay», LLC «Kimberly Clark», who haven't so far got the work on a permanent basis. There are about 2000 of such people. It'll be easy for these young men to fit into the Western-European standards of the production culture and the discipline.
One may consider as an additional reserve of the engineering technical personnel those specialists who are employed at industrial enterprises of Moscow and the nearby region, and who live permanently in Stupino. There are more than 100 of such people in the database that is being constantly enlarged and replenished.
Of all able-to-work people in Stupino (appx. 75 600 of people) more than 34 500 are employed at the branches of the material production. Each second of them has the experience of work at the leading region enterprises. The region enterprises are conducting work to attract youth by means of performing the following actions: they conclude collective agreements to set the additional labour conditions, payment terms, to give some guarantees and privileges; they establish provisions about the additional bonuses granted to young people; they pay practical trainings, and the like.
To assess the quality of the received education it is quite indicative to cite the top manager of «Mars» transnational corporation, Mr. Mike Hannok, who considers the personnel of Stupino factory to be the most qualified of all factories in the world.
There are several private recruiting agencies acting in Stupino region, namely: LLC «New life agency» (Director Mr. Nikolaev), that has been performing its activity since 1996. There are approximately 5000 of candidacies in its database; there is an opportunity to find employees who have command of foreign languages (English, French, German, Italian, Spanish, etc.). It is acting as a recruiting company for LLC «Mars» and LLC «Campina», LLC «Kimberly Clark», etc.
The recruiting company «Premier-ST» (Director Mrs. Borovik) has started work in 2002. It has experience of work with a number of foreign companies (amongst them LLC Mars, LLC Frito Lay, etc.)
Stupino district centre of employment also renders services of recruitment (Director Ms. Novoseltseva).
Educational establishments of Stupino region
The network of educational establishments of Stupino region includes 4 branches of high schools, namely:
1) Stupino branch of Moscow state aviation-technological university of Tziolkovskiy. There are 5 directions of study at the university:
Metallurgy;
Treatment of metals using pressure;
Aviation engines and energy units;
Management;
Automatic systems of information processing and management.
The number of students at the University is 837. The graduates have the qualification of an engineer-mechanic, engineer-designer, engineer-specialist in metals, production manager, and engineer-programmer. The basic directions of the scientific activity of Stupino branch are:
perfecting of the technology of semi-finished products manufacturing, parts and units for machine-building production, their operating characteristics increase;
the automatic systems of management of the industrial and economic objects perspective informational technologies and productive management.
2) The branch of Moscow Financial-Juridical Academy, 723 students. It performs training of lawyers, economists and manageres.
3) The branch of Russian new university (923 students). Specialities: legal activity, finance and credit.
4) Moscow State University of mechanical engineering, 108 students,
There are 3 secondary professional establishments in the region:
Stupino aviation – metallurgical technical school of Tumanov.
There are 743 students at school who specialize in the following fields: economics, accountancy and control, automatic systems of information processing and management, technology of machine-building, treatment of metals using pressure;
The college of Russian new university performs training of 479 students by the following directions: jurisprudence, economics, accountancy and control, computer software, right and organization of social security;
Stupino region state medical school.
There is also a professional school that trains workers of various specialities numbering 535 people.
The specialists with a diploma of high school know the fundamentals of foreign languages, the most spread of which is English. Because of the constant need in languages in the production there were created opportunities for widening of the English teaching system: the tutors and teachers, as well as the public entities that are able to organize this work.
Amongst the latter are:
The arts-aesthetic school «Alliance» (director Mrs. Taran) is implementing schooling of children and adults. The studies in English, German, and French are being held in groups and individually.
The educational centre «Credo» (director Mrs. Matveenko) organizes courses of English, French and German for different levels of the language mastering for both children and adults. Since October 2003 there have been functioning the courses of Italian.
The grammar school of Stupino (director Mrs. Matulina) proposes to take courses of the advance study of English for pupils.
Hospitality and Leisure Services
| | |
| --- | --- |
| | Favorable investment climate looked up after the construction of a hotel in Petrovo. Within 12 km (7.5 miles) from Stupino is located "Zarya" 4-star boarding hotel that belongs to GKNPTZ named after Khrunichev with a 150-room accomodations. The single and double rooms are quite comfortable with a bar, kitchenette, phone and color TV. There is a live-music restaurant, karaoke bar in the winter garden, phyto-bar and a disco hall. Moreover, to compliment business travelers there is a conference room for 300 people, banquet hall, and Internet cafe. |
| | |
| --- | --- |
| Also are available snooker tables, sauna, beauty parlors and barbershops, weights rooms, solarium. One can enjoy horse and sleigh riding, skiing, skating and snowmobile driving. Sightseeing tours are available around Stupino district: the Holy Trinity monastery, Otradnoye museum– manor in Semenovskoye. | |
Medical center of the hotel is fully equipped to treat heart and nervous diseases. Experienced medical professionals are on staff of the center: otolaryngologist, ophthalmologist, heart specialist, endocrinologist, peadiatrist, reflex therapist, homoeopath. Swimming pools (sports, medical, for children) are open and equipped with massage and water cascades.
The price is from US$100 a day including 4 meals.
Zarya boarding house is located is the ecologically favorable forest area. Contact phone: 8-49664-7-58-00/01.
The staff of new enterprises that takes up permanent residence in Stupino region can purchase flats. Land plots for cottages can only be provided in ecologically favorable places – in the vicinity of pine forests next to the Oka River.
There is a number of reading halls, Culture Palaces, a musical and folklore school, historical museum and an arts gallery in Stupino.
Culture Palaces often hosts gala concerts of musical and theater performances. Local jazz-band and folklore music ensembles are the best in Moscow oblast. The area of the Culture Palace is above 6,000 m2. There are two concert halls: Large for 800 seats and Small for 200. 5 halls are used for dance, exhibition and rehearsal purposes. More than 20 folklore groups exist in the Palace.
Stupino district enjoys many outdoor sports opportunities: water sports (the Oka River) and winter sports (mountain skiing). Ice hockey palace is being built. Hunting and outdoor leisure opportunities also exist.
Stupino district has many facilities for 40 sports. There are over 130 sports facilities: 2 stadiums, 81 sports grounds, 2 special soccer fields, 35 gyms, 2 shooting ranges, 5 swimming pools, skiing lodge and other. A swimming pools are available, a specialized youth tennis school for future Olympians, the sections for soccer, basketball, heavy athletics, boxing, table tennis, figure skating, shooting and others. In 2000 a new sports complex DUSSH Seman-Progress was opened for free calisthenics, volleyball and ice hockey groups. In 2001 a multi-functional youth culture and sports complex Sokol was opened and equipped with sports facilities.
Family Healthcare and Education – Foreigners
The health care of Stupino region is represented by an extensive network of local health clinics for primary care (emergency, small town policlinics and hospitals), specialized health care (central city hospital and policlinics). The central city hospital is a headquarters of the health care in the region that provides general and specialized health care for the population.
| | |
| --- | --- |
| | There is a section of rehabilitation treatment in Stupino policlinic. The section can host 20,000 visits annually. The medicine and physio-therapetical treatment is available. Also treatment in the sections of physiotherapy, magnet therapy, physiotherapy exercises. The section provides arenation and aerial procedures, swimming pool and sauna. The section was recognized the best in Moscow oblast in rehabilitation treatment in Russia. |
The health care institutes of the region operate within a unified system of phase-by-phase treatment in accordance with the territorial program of mandatory health care insurance. The state provides guarantees of free health care for Stupino region residents and invests in the development and acquisition of modern medical and diagnostics equipment.
Some insurance companies operate in the region.
Should a complicated case of specialized health care occur it is possible to provide such in the best clinics of Moscow and Moscow oblast within the system of voluntary health care insurance.
With the support of Mars Company a modern medical center was opened within the system of ECO medical company. The staff of the center (therapists, paediatrists consultants in various medical fields) provides primary health care services for the personnel and its family members of Mars and Campina companies. The center can host 60-70 visits daily. All equipment is brand new and service conditions are excellent.
The children can study in 35 municipal schools and private high school in Stupino and get pre-school and medium school education. Education in private school is also available with a nanny-interpreter. The education is conducted on an individual basis, and the number of pupils in class ranges from 5 to 10. The total number of pupils in the high school is 60. Besides general classes the pupils can study choreography and take advanced arts, piano, accordion, guitar, and violin lessons. The curriculum ensures full day of classes with 3 meals a day. The graduates receive a state diploma.
Thanks to big foreign companies already located in Stupino the style, quality of life and infrastructure have improved. The population of Stupino would welcome and appreciate a new investor's decision to settle down here as well.
Stupino town has already international ties, it is a sister town of a German Telgte, of Veghel (Holland), of Mira, Sassuolo, Numana, Andalo (Italy), Aiken (U.S.A.), Nahariya (Israel).
Stupino District Administration
Mayor of Stupino District - Pavel Ivanovich Chelpan
Tel. (49664) 4-20-68, fax (49664) 2-29-22
e-mail: stupino@mosreg.ru
http:// stupino.stinline.ru
Vice-Mayor for Economy - Ivan Ivanovich Palamarchuk
Tel. (49664) 4-21-10, fax (49664) 7-65-10
Mayor assistant on investments Bulavinov Vladimir
Tel. (49664) 2-82-32, fax (49664) 7-65-10
e-mail: eco2007@rambler.ru
30.04.2013 г.